Chester - Wrexham
Along the banks of the meandering river Dee, through a lovely park and wooded meadows, past the seat of the dukes of Westminster to an estate village, across a medieval bridge into Wales.

Am Ufer des sich schlängelnden Flusses Dee, durch einen herrlichen Park, über bewaldete Wiesen, am Familiensitz der Herzöge von Westminster vorbei zu einem Gutsdorf, über eine mittelalterliche Brücke an der englisch-walisischen Grenze.
The route, day 6
From the canal bridge in City Rd. to Grosvenor Park, across the Dee on Queen's Park Bridge, via Victoria Crescent to Chester Meadows. Along the river to Aldford Iron Bridge, across fields to Aldford and along School Lane, back to the river. On the east bank of the Dee to Farndon, across the bridge to Holt. South from Holt Castle on the west bank, across fields to Ridley Wood Rd. Past Wrexham Industrial Estate on Bryn Lane and Abenbury Lane, a footpath to Erlas Lane, then right, after 100 metres left through fields to Cefn Lane. Holt Rd. to Wrexham town centre.
22 miles/35 km.
Note: this route is long, the westwards section from the Dee to Wrexham not very attractive and difficult, as footpaths have disappeared. For a pleasant day out, walk from Chester to Farndon or Holt and return by bus (12-13 miles).

Von der Kanalbrücke an der City Rd. zum Grosvenor Park, auf der Queen's Park Bridge den Dee überqueren, Victoria Crescent zu den Wiesen am Fluss. Am Dee-Ufer bis zur Eisenbrücke in Aldford, über Wiesen ins Dorf und die School Lane entlang. An der Rushmere Lane rechts zum Fluss hinunter, am Ostufer nach Farndon, dort über die Brücke nach Holt. Die Bridge St. führt zur Burg. Am Westufer des Dee nach Süden, über Wiesen zur Ridley Wood Rd. Um das Gewerbegebiet herum auf der Bryn Lane und Abenbury Lane, rechts in die Erlas Lane, dort rechts und nach 100 m links auf den Pfad durch die Felder zur Cefn Lane in Wrexham. Holt Rd. führt zur Stadtmitte. 35 km.
Empfehlung: Dieser Weg ist lang, der letzte Abschnitt vom Dee nach Wrexham schwierig (wo Wegerecht eigentlich besteht, ist der Pfad nicht mehr erkennbar) aber nicht ansprechend. Angenehmer: am Fluss von Chester nach Farndon oder Holt und mit dem Bus zurück (ca. 20 km).
Grosvenor Park, Chester
Richard Grosvenor, 2nd Marquess of Westminster, donated the land for Grosvenor Park, which opened in 1865. He also paid for the park-keeper's lodge, which is adorned by crowned figures: William the Conqueror (left, with sceptre) and Norman earls of Chester (2nd from left: Hugh Lupus with a wolf on his shield – see day 5, Neston-Chester, Shotwick Castle). John Douglas designed the lodge and the row of six town houses with tall chimneys and octagonal turrets, seen in the background on the right.

Richard Grosvenor, 2. Marquess von Westminster, schenkte das Land für den 1865 eröffneten Grosvenor Park und finanzierte das Parkhäuschen, das gekrönte Figuren schmücken: König Wilhelm der Eroberer (links mit Szepter) und die normannischen Grafen von Chester (2. v. links: Hugh Lupus mit Wolf im Wappen – s. Tag 5, Neston-Chester, Shotwick Castle). Der Architekt John Douglas entwarf das Haus und auch die rechts im Hintergrund sichtbare Reihe von sechs Häusern mit hohen Kaminen und achteckigen Türmchen.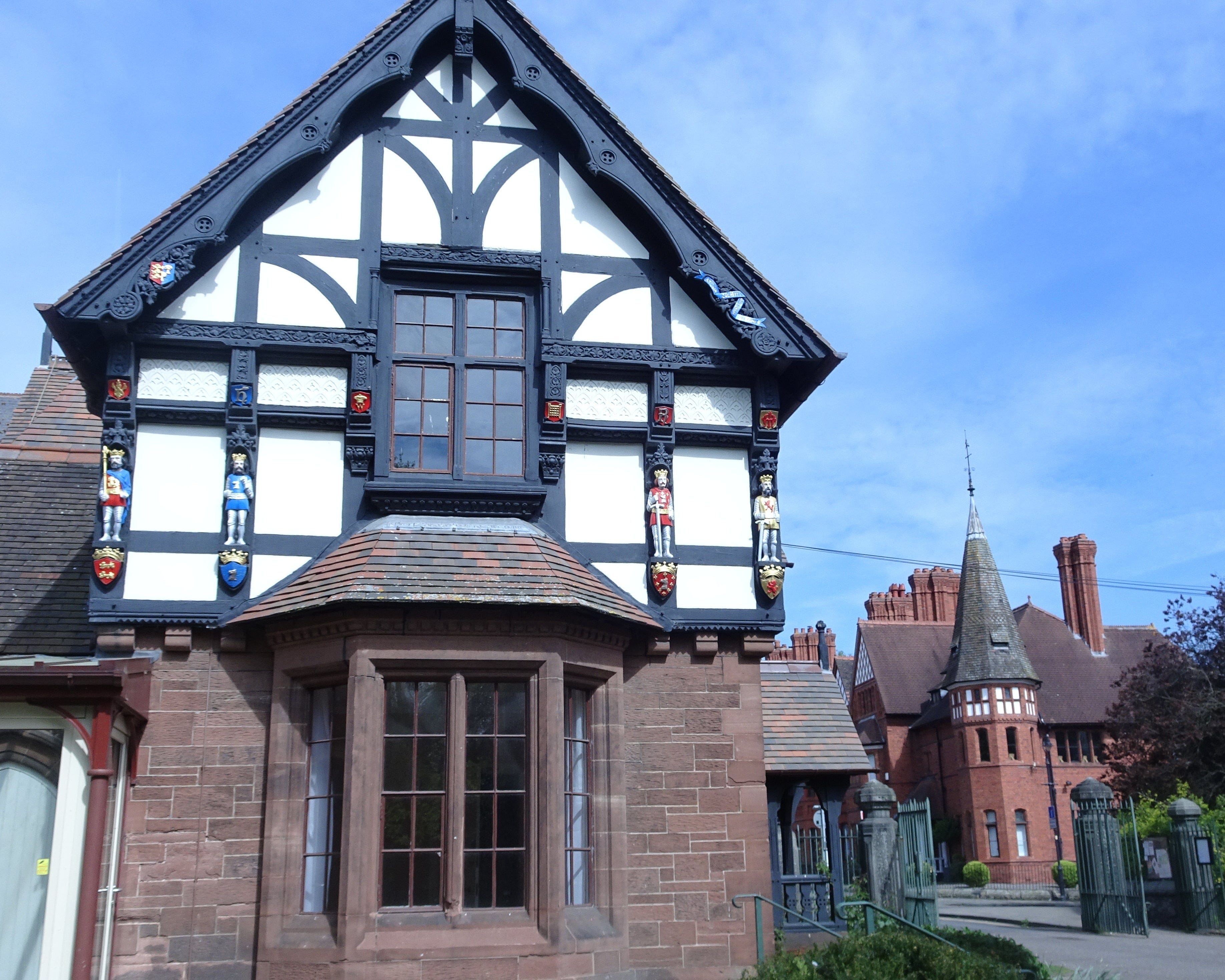 Queen's Park Bridge crosses the Dee from the park.

Die Brücke führt vom Park zum Südufer des Dee.
Chester riverside from Queen's Park Bridge.

Blick von der Brücke auf das Ufer in Chester.
River Dee
The river Dee (Afon Dyfrdwy in Welsh) flows 70 miles from its source in Snowdonia to the estuary. Part of its course is the border between England and Wales. The ancient name, Deva, may mean "river of the goddess" in Brythonic, the language from which modern Welsh derived, and was adopted by the Romans in the name of their fortress at Chester, Deva Victrix. After entering the Cheshire lowlands it meanders sluggishly northwards. To the west of Chester, in the 1730s Dutch engineers channelled the river in a straight line for five miles on the Welsh side of the estuary. The merchants of Chester hoped, in vain, that this would halt the silting of the port and the consequent decline in their trade.



Der Weg des Flusses Dee (walisisch: Afon Dyfrdwy) von der Quelle im Gebirge Snowdonia bis zur Mündung misst 70 Meilen. Ein Teil davon bildet die Grenze zwischen England und Wales. Der alte Name, Deva, bedeutet möglicherweise "Fluss der Göttin" in der alten britannischen Sprache, von der das moderne Walisisch stammt. Für den Namen ihrer Festung in der heutigen Stadt Chester, Deva Victrix, übernahmen die Römer diese Bezeichnung. In der Tiefebene von Cheshire schlängelt sich der Dee gemächlich nach Norden. Westlich von Chester wurde der Fluss von niederländischen Ingenieuren in den 1730er Jahren kanalisiert. Durch diese Maßnahme wollten die Kaufleute von Chester die Verlandung ihres Hafens aufhalten – vergeblich. Seitdem fließt der Dee auf der walisischen Seite der Mündung in einer 8 Kilometer langen geraden Linie.
The river Dee, south of Chester.

Am Dee-Ufer südlich der Stadt Chester.
The owners of Heronbridge, built in about 1830, have a river view.

Vom Haus Heronbridge (ca. 1830) blickt man auf das Flussufer.
River Dee, Eaton Hall
After crossing beneath the North Wales Expressway, the riverbank path passes the village of Eccleston, on higher ground to the right, with a view of the fine church tower, and reaches the car park at Eccleston ferry. The ferry no longer operates, but Ferry House, now a farmhouse, is visible across the river. It was built for the dukes of Westminster for entertaining guests whom they invited for boat trips. Beyond a gate, the public footpath is confined for 1.5 miles between the riverbank and the fence of the dukes' estate. Eaton Hall, their family seat, is concealed from the eyes of walkers, who get glimpses of well-designed estate buildings while passing through woodland and along open stretches of riverbank.


Der Weg am Dee-Ufer unterquert den North Wales Expressway und passiert das Dorf Eccleston. Man blickt rechter Hand auf den schönen Kirchturm und erreicht bald den Parkplatz an der Eccleston Ferry. Die Fähre ist nicht mehr in Betrieb, aber am gegenüberliegenden Ufer sieht man das Ferry House, das einmal den Herzögen von Westminster zur Bewirtung ihrer Gäste bei Bootsfahrten diente. Jenseits des Tores am Parkplatz verläuft der Pfad teils durch Wald auf einer Entfernung von 2,5 km zwischen dem Dee und dem Zaun des herzoglichen Anwesens. Der Familiensitz Eaton Hall versteckt sich im weitläufigen Park, sichtbar sind aber gut gepflegte Wirtschaftsbauten.

.
The Dukes of Westminster - Britain's wealthiest aristocrats
The grand houses that open to the public do not include Eaton Hall, the family seat of the Grosvenors since the 15th century. The gardens, 50 acres within 1,200 acres of parkland, are open three times a year for charity, but the Grosvenors have no need to let paying guests into their home, because they are Britain's richest aristocrats. When Hugh Richard Louis Grosvenor, born in 1991, became the 7th Duke of Westminster in 2016, he was the world's richest person under the age of 30. The Sunday Times Rich List estimated his net worth in 2022 at £ 10 billion.
The family trace their descent from Gilbert le Grosveneur, who came to England with William the Conqueror. For 600 years they were not among the leading noble dynasties, but in 1677 Thomas Grosvenor married an heiress and thus gained a rural area immediately west of London – now Mayfair, Belgravia and Pimlico. The names of some fine addresses there – Eaton Square, Chester Square, Grosvenor Square – are clues to who owns the land. Riches brought titles. In 1831 Earl Grosvenor became 1st Marquess of Westminster, and in 1874 the 3rd Marquess was made a duke.
The wealth of the estate near Chester, including the villages of Aldford and Eccleston, is evident in the excellent quality of many 19th-century buildings. Eaton Hall itself is no gem. The old house was demolished in 1960, and 30 years later its ugly replacement was encased in a new shell to look like a French chateau.
As well as prime property in London, the family has real estate in China, Japan and North America. The Grosvenor assets are controlled by a trust, which means no inheritance tax is paid. The family say the purpose of this is continuity rather than tax avoidance, and that they pay tax in lieu of inheritance tax. According to www.grosvenor.com, the trust's four fields of activity are improving property and places, sustainable rural estates, supporting vulnerable young people, and a better food system.
The family motto is Virtus Non Stemma (virtue not ancestry). It's difficult not to be sceptical, but the 7th Duke of Westminster is said to be modest and hard-working, and the trust undoubtedly donates large sums to charity. The 6th Duke showed his social conscience in 1990 by preventing Westminster Council from gentrifying 532 flats in Pimlico that had been leased from the Grosvenor estate. The lease stated that the housing had to be affordable to low-income tenants. In the legal dispute "Westminster vs. Westminster", the duke was victorious.
Die Herzöge von Westminster - Britanniens reichste Adelsfamilie
Eaton Hall, Sitz der Grosvenor-Familie seit dem 15. Jahrhundert, gehört nicht zu den öffentlich zugänglichen Adelspalästen. Dreimal im Jahr werden die 50 Hektar großen Gärten für wohltätige Zwecke geöffnet, aber auf zahlende Gäste sind die Grosvenors nicht angewiesen – sie sind Großbritanniens reichste Aristokraten. Als Hugh Richard Louis Grosvenor, Jahrgang 1991, nach dem Tod seines Vaters 2016 zum 7. Herzog von Westminster wurde, war er der reichste Mensch der Welt unter 30 Jahren. 2022 wurde sein Vermögen auf 10 Milliarden Pfund geschätzt.
Die Familie stammt von Gilbert le Grosveneur ab, der Wilhelm den Eroberer nach England begleitete. 600 Jahre lang gehörten die Grosvenors nicht zu den führenden Adelshäusern, bis im Jahr 1677 Thomas Grosvenor eine Erbin heiratete. So erhielt er ein damals ländliches Gebiet am westlichen Rand von London, zu dem die edlen Stadtteile Mayfair und Belgravia heute gehören. Die Namen einiger der feinsten Londoner Adressen – Eaton Square, Chester Square, Grosvenor Square – verraten, wem das Land gehört. Mit diesem Reichtum gingen Titel einher. 1831 wurde der Graf Grosvenor zum 1. Marquis von Westminster ernannt, 1874 wurde 3. Marquis in den Rang eines Herzogs erhoben.
Der Reichtum des herzoglichen Anwesens bei Chester zeigt sich in der hervorragenden Qualität vieler Gebäude aus dem 19. Jahrhundert, beispielsweise in den Dörfern Aldford und Eccleston. Eaton Hall selbst ist kein Schmuckstück. Das alte Haus wurde 1960 abgerissen. Der hässliche Nachfolgebau wurde 30 Jahre später umgestaltet, um wie ein französisches Chateau auszusehen.
Neben Filetstücken von London verfügen die Grosvenors über ein internationales Immobilienportfolio, auch in China, Japan und Nordamerika. Weil eine Familienstiftung das Vermögen kontrolliert, sind keine Erbschaftssteuern fällig. Der Zweck davon sei nicht Steuervermeidung sondern die Bewahrung des Erbes. Laut www.grosvenor.com werden vier Tätigkeitsbereich verfolgt: die Aufwertung von Immobilien und Standorten, nachhaltige Agrarwirtschaft, die Unterstützung vulnerabler junger Menschen und ein besseres Ernährungssystem.
Das Familienmotto lautet Virtus Non Stemma (Tugend statt Abstammung). Wer wäre da nicht skeptisch? – aber der 7. Herzog von Westminster soll bescheiden und fleißig sein, und die Stiftung spendet beträchtliche Summen für wohltätige Zwecke. 1990 verhinderte der 6. Herzog die Gentrifizierung von 532 an die Verwaltung des Londoner Stadtteils Westminster verpachteten Wohnungen. Laut Pachtvertrag der Stiftung waren die Wohnungen für einkommensschwache Mieter bestimmt. Im Rechtsstreit "Westminster vs. Westminster" ging der Herzog als Sieger hervor.
Aldford, Aldford Iron Bridge
Fine architecture for aristocratic landowners
At the south end of the Eaton Hall estate, Aldford Iron Bridge (below left) leads to the east bank of the Dee. It was built for the 1st Marquis of Westminster in 1824 with a single span of 50 metres. On the bridge, look back to see an example of the high-quality architecture commissioned by the Grosvenor family: Iron Bridge Lodge (below, centre), designed in 1894 by the firm Douglas and Fordham. John Douglas planned a huge number of buildings for the 1st and 2nd dukes of Westminster (see Grosvenor Park Lodge in Chester, above), including churches, schools, 50 farms, hundreds of workers' cottages and buildings on the Eaton Hall estate. Many have a lower storey of red brick and/or sandstone and half-timbered upper storeys. Douglas often designed decorative chimneys – in the case of Iron Bridge Lodge with spirals of moulded brick. His work in the village of Aldford includes the church (1866, paid for by the 2nd Marquess of Westminster) and the Grosvenor Arms pub. The thatched cottage below right was built in the early 19th century for the 1st Marquess. Eccleston is considered to be even finer than Aldford as an example of a well-designed aristocratic estate village.

Hochwertige Bauten für adlige Grundbesitzer
Am südlichen Ende des Anwesens Eaton Hall führt die Aldford Iron Bridge (unten links) zum Ostufer des Dee. Sie wurde 1824 für den 1. Marquess von Westminster mit einer Spannweite von 50 Metern gebaut. Wer von der Brücke zurückschaut, sieht ein Beispiel der hochwertigen Architektur, die von der Grosvenor-Familie in Auftrag gegeben wurde: Iron Bridge Lodge (unten, Mitte), 1894 von der Firma Douglas and Fordham entworfen. John Douglas errichtete zahlreiche Bauwerke den 1. und den 2. Herzog von Westminster (s. Grosvenor Park Lodge in Chester, oben), darunter Kirchen, Schulen, 50 Bauernhöfe, Hunderte von Arbeiterhäuschen und Wirtschaftsgebäude auf dem Gut. Typisch dafür ist eine untere Etage aus rotem Backstein und/oder Sandstein mit Fachwerkgeschossen darüber. Douglas entwarf gerne üppig verzierte Schornsteine – im Fall von Iron Bridge Lodge mit Spiralen aus Formziegeln. Zu Douglas' Entwürfen im Dorf Aldford gehören die Kirche (1866, vom 2. Marquess finanziert) und der Pub Grosvenor Arms. Das reetgedeckte Haus (unten rechts) entstand im frühen 19. Jahrhundert für den 1. Marquess. Noch mehr als Aldford gilt das Dorf Eccleston als herausragendes Beispiel eines Gutsdorfs des Hochadels.
Aldford Iron Bridge, 1824
Thatched Cottage, c. 1820
Aldford - Farndon
The route enters Aldford at the site of a motte and bailey castle, constructed in the mid-12th century as a defence against attacks from Wales and now visible only as contours in a field, and leaves the village again via a track leading to woodland by the bank of the Dee. From this point southwards, the river is the English-Welsh border. The path follows meanders of the Dee through sparsely populated countryside – easy walking in pleasant, unspectacular scenery. Little holiday lodges, some of them with a wooden jetty on the river, give an impression of discreet hideaways in a quiet region that sees few tourists.
Things may have been busier here 2,000 years ago. At Poulton on the west bank, opposite the first loop of the Dee to the south of Aldford, archaeologists uncovered remains of an Iron Age village that was here from about 800 BCE until Roman times. There is evidence of metalworking, ritual sacrifices of dogs and items that were traded by river to other parts of the country. Jewellery including a ring made of jet and great amounts of pottery were found. This seems to have been a prosperous settlement.

Wir erreichen Aldford an der Stelle einer Burg, Mitte des 12. Jahrhunderts zur Abwehr von Übergriffen aus Wales erbaut, heute nur noch als Gräben und Erhebungen in der Wiese sichtbar, und verlassen das Dorf auf einer Piste, die zu einem Waldstück am Dee-Ufer führt. Ab hier in Richtung Süden verläuft die englisch-walisische Grenze in der Flussmitte. Durch ein dünn besiedeltes Gebiet folgt der Weg den Mäandern des Dee – ein leichter Spaziergang durch hübsche, unspektakuläre Landschaft. Kleine Ferienhäuschen, manche mit einem Holzsteg am Fluss, wirken wie ruhige Verstecke in einer von Touristen wenig aufgesuchten Region.
Vor 2.000 Jahren war vielleicht mehr los. In Poulton am Westufer, gegenüber der ersten Schleife des Dee südlich von Aldford, entdeckten Archäologen Überreste eines Dorfes, das von etwa 800 v. Chr. bis zur Römerzeit besiedelt war. Es gibt Hinweise auf Metallverarbeitung, rituelle Hundeopfer und Handel über den Fluss in andere Landesteile. Schmuck wie ein Ring aus Gagat und große Mengen an Keramik wurden gefunden. Es scheint sich um eine wohlhabende Siedlung zu handeln.
Wild garlic wood, Aldford

Bärlauchteppich am Waldboden
River Dee south of Aldford

Zwischen Aldford und Farndon
Slow current, SUP-friendly

Langsame Strömung für SUPs
Farndon and Holt
The bridge connecting Farndon on the English side with Holt on the Welsh side was once a strategically important crossing. It was built in about 1345 from red sandstone, with five arches over the river and flood arches at the east and west ends. The middle part remains essentially unaltered since medieval times. It was fiercely contested during the English Civil War, when parliamentary forces in Farndon were attacked by royalists. The Dee cliffs seen when approaching Farndon are a Site of Special Scientific Interest, as the river has exposed geological layers from the Triassic period 200 million years ago.
Holt has remains of a castle begun by Edward I in 1277. It was five-sided and had round corner towers. In 1400, Welsh forces burned the town during the rebellion of Owain Glydwr. They failed to take the castle, which also held out for 9 months under a royalist governor during a siege in 1646. 30 years later, most of the stone was taken by Thomas Grosvenor to build a new house at Eaton.


Die Brücke zwischen Farndon auf der englischen und Holt auf der walisischen Seite war eine strategisch wichtige Flussüberquerung. Sie wurde um 1345 mit fünf Bögen aus Sandstein erbaut. Der mittlere Teil blieb seit dem Mittelalter weitgehend unverändert. Die Brücke war während des englischen Bürgerkriegs heftig umkämpft, als parlamentarische Kräfte in Farndon von Royalisten angegriffen wurden. Die Dee-Klippen am Fluss in Farndon sind ein SSSI ("von besonderem wissenschaftlichen Interesse"), da der Fluss geologische Schichten aus der Trias vor 200 Millionen Jahren freilegte.
In Holt sind Überreste einer 1277 von Edward I. begonnenen Burg zu sehen. Die Anlage hatte fünf Seiten und runde Ecktürme. Während der Rebellion von Owain Glydwr im Jahr 1400 brannten walisische Truppen die Stadt nieder. Die Burg wurde nicht eingenommen und hielt unter dem Befehl eines royalistischen Kommandeurs im Jahr 1646 eine 9-monatige Belagerung stand. 30 Jahre später entfernte Thomas Grosvenor die meisten Steine, um sich ein neues Haus in Eaton zu bauen.
Dee cliffs, Farndon. Triassic-era rocks.

Dee-Klippen, Farndon. Gestein aus dem Trias.
Farndon Bridge, built in approx. 1345.

Die Brücke entstand um das Jahr 1345.
View towards Holt across the bridge.

Blick entlang der Brücken nach Holt.
Little remains of Holt castle.

Von der Burg in Holt ist wenig geblieben.
Welcome to Wales
When leaving the river Dee south of Holt, paths west to Wrexham are marked on the map but unclear on the ground and seem to have been blocked in places by farmers who do not welcome walkers.

Südlich von Holt sind Pfade in Richtung Westen nach Wrexham zwar auf der Landkarte markiert, vor Ort aber kaum erkennbar oder wurden blockiert. Anscheinend sind Wanderer bei manchen Bauern nicht willkommen.
Sign on the Welsh side of the border in Holt.

Die Begrüßung in Holt auf der walisischen Seite.
Waymarked footpaths on the Dee are easy to follow .

Wege direkt am Fluss sind eher leicht zu finden.
Fallen trees by the river are not a major obstacle.

Kein ernsthaftes Hindernis:
gestürzte Bäume am Ufer
.
Wild garlic in woods at Aldford. John Sykes was here, 30 April 2022.

Ende April riecht es im Wald am Flussufer bei Aldford stark nach Bärlauch.